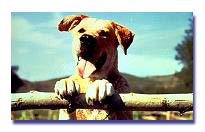 I remember
this movie
from when I was a child. I balled my eyes out when the dog had to be shot at the end, so when I saw that Grand Pa Eddie and
Grandma Mickey
rented it for the kids to watch while they baby-sat, I was a little worried. Mia took care of that though. Know what she said as she watched the young man struggle with having to shoot Ol' Yeller?
Oh... Come on! Hurry up and shoot him already!

So much for being worried!
Image:
disney.go.com